Coming soon: Pine Mills Pottery's 36th Annual Memorial Day Weekend Sale!
Beautiful pottery for thirty-six years, from our hands to yours.
You're invited! Saturday, Sunday and Monday, May 28, 29 and 30, 2016, 10am to 5pm. Gary & Daphne Hatcher will be celebrating Pine Mills Pottery's 36th year of making beautiful pots together, for you to enjoy in your home, kitchen & as gifts for your loved ones, at our annual Memorial Day Weekend Open House and Sale.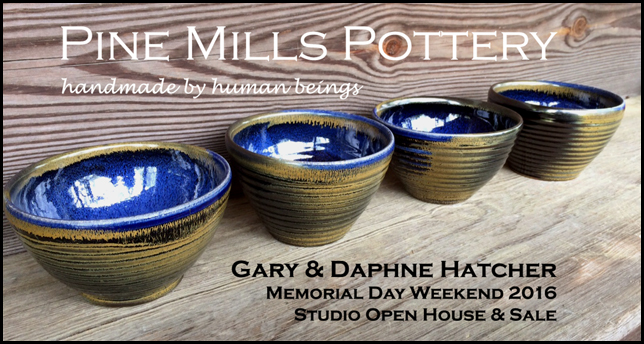 The four seasons of the year go 'round & we find ourselves again in the glorious springtime, glazing & firing our most recent creations, made over the past winter while indoors away from the weather. Shaped with our hands & hearts, we hope that these vessels will find their way into your home, to be held & passed around a table encircled by friends & family, filled with food, for all to enjoy. Our pots come full circle with the beauty of use & the completeness of your touch, whether it is in the simple task of containing a bowl of fresh summer fruit, or as a favorite centerpiece displayed above your table or desk, adorning the spaces in which you live & work. Come and visit us this Memorial Day Weekend for our 36th Annual Studio Open House & Sale and share fresh squeezed lemonade & homemade cookies made by local personal chef, Kaycee Murdock, while you shop for new pots to add to your collection & enjoy the beautiful East Texas countryside.
We will be open for our annual event from 10 am until 5 pm on Saturday, Sunday and Monday, Memorial Day Weekend. If you wish to come out to the studio on other days leading up to the holiday weekend, we are likely to be here working and will be open, but it's best to phone ahead (903-857-2271), email (claygarden@pobox.com), or text (903-316-1696), and make a loose appointment to be sure someone will be here to receive you. We welcome your visit when we are present & open. Add your name to our email announcement list to receive a 20% off coupon on one single item, good for a purchase between now and the end of May. Email Daphne at claygarden@pobox.com to do this.
Gary makes some of the very best handmade dinnerware to found. Give some consideration to allowing him to create a special dinner set just for you, like the set pictured below, or like any of the sets found when you click on the link in the lefthand column, "Dinnerware".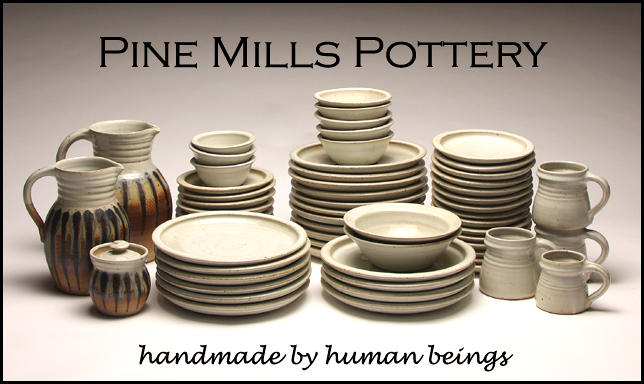 Pine Mills Pottery, handmade by human beings: Daphne and Gary Hatcher.
Welcome to the Pine Mills Pottery web site. We appreciate your interest in our fine handmade pottery and hope you enjoy learning about our studio and work. Our studio and gallery are located in the beautiful rolling woodlands of Northeast Texas about 100 miles east of Dallas and 30 miles north of Tyler. Visitors are welcome at the pottery showroom where a large selection of our thoughtfully designed pottery is available for purchase. The pottery is usually open seven days a week from 10 a.m. until 5 p.m., but if you are making a special trip please phone ahead
903-857-2271 to make sure the studio is open, as we are occasionally closed. Directions to the pottery can be found here *Please use "Pine Mills, Texas" as your GPS entry to find us, NOT our Mineola postal address. Pine Mills Pottery studio and gallery are located in a rural area 14 miles east of Mineola on FM 49, one mile before reaching FM 14 at Pine Mills, TX: DIRECTIONS.
There are many other things of interest to do locally. Check out our list of special places in our area to eat and visit here: THINGS TO DO LOCALLY. For accommodations in the area click here: AREA ACCOMMODATIONS.
We are open year-round! Make an loose appointment and come on out!
We have two annual sale events at our studio, one on Memorial Day Weekend in May and the other on Thanksgiving Weekend in November, but we are open year-round. Walk in the woods to the pond, sit in the garden or on the porch. Enjoy the beauty and bounty of nature and our own clay creations. We look forward to your visit. If you can't make it out to the studio, I am happy to work with you via email and digital photos to make a purchase anytime for yourself or as a gift to be shipped to someone special. We also show and sell our work at the Texas Clay Festival in Gruene, Texas, in October every year, and at the Dallas Pottery Invitational at the Addison Visitors Center in April.
We have fired both our big woodfired kiln and our gas-fired kiln several times recently. There is a very nice selection of work in the gallery for you to choose from. Call 903 857 2271 for an appointment ("sometime Saturday afternoon", or "Tuesday morning" is adequate, nothing complicated) and drive out to Pine Mills Pottery in the rolling, wooded East Texas countryside. While our studio is usually open daily from 10-5, it's best to call ahead to be sure someone will be here, for your convenience. *Please use "Pine Mills, Texas" as your GPS entry to find us, NOT our Mineola postal address. Pine Mills Pottery studio and gallery are located 14 miles east of Mineola on FM 49, one mile before reaching FM 14 at Pine Mills, TX.
Peace and Quiet Cottage: A Vacation Rental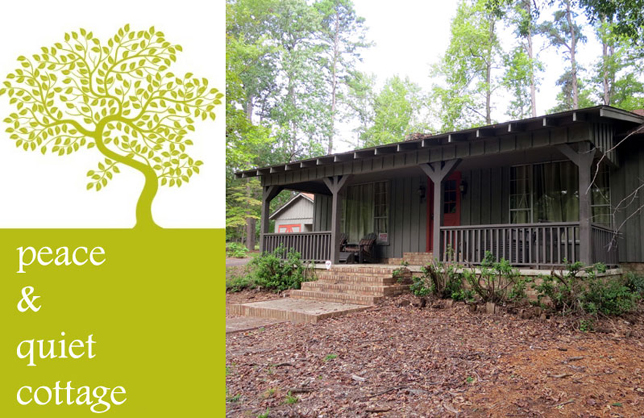 If you are thinking of driving out, why not stay a while? Gary and Daphne now offer a lovely rental cottage situated on 3 private acres directly next door to Pine Mills Pottery, nestled the woods, a naturalist and bird-watcher's paradise.
Fully furnished and beautifully appointed, the totally renovated 2700 sq. ft. house has two-bedrooms, 1 1/2 baths and everything you need for a quiet getaway: sheets, towels, a fully outfitted kitchen with all new appliances and fixtures, complete with Pine Mills Pottery dinnerware, washer and dryer, a screened porch, walking paths through the woods and more. Perfect for a romantic weekend, a couples retreat from the city, bicyclists, a writers or artists retreat, a girls weekend away or a small family gathering. Sleeps 6 comfortably. Smoke-free. No pets.
Check out the full cottage website at www.peaceandquietcottage.com
Our VRBO (Vacation Rental By Owner) site for rates and reservations is located here:
Peace and Quiet Cottage, A Private Woodland Retreat Less Than 2 Hours East of Dallas
Inquire at the pottery or call us at 903-857-2271, or you may send Daphne an email by clicking here: Daphne's email
A Gift Certificate: the perfect gift from Pine Mills Pottery! Call: 903-857-2271
Can't make it out to the studio right now? No problem. Gift certificates can be redeemed online, by phone or at our studio gallery. Give us a call and we will send a gift certificate via realmail or email to you or to your recipient with your personal message, Mother's Day greeting, birthday or wedding wishes, for any amount. You can use your credit card to take care of last minute gifts by calling us at 903-857-2271 or you may send Daphne an email by clicking here: Daphne's email
About Pine Mills Pottery:
Our web site presents a sample of the exceptional ceramics made in our studio. Visitors to our showroom will find a large selection of individual works of interest to collectors of fine contemporary ceramics, as well as everyday dinnerware and serving pieces for functional use in the home. All pieces are totally handmade from stoneware clay that we blend ourselves using nine separate ingredients, including four different clays from various mines across the southern United States. Processes we use for creating our ceramic art works have been developed by us over more than thirty years, first as apprentices and then at our own studio established in 1979. We made the decision many years ago to make each individual piece ourselves and not to delegate the making process to employees. This makes it possible for us to make each piece of exceptionally high quality. We use no commercial processes such as molds, slip casting, jiggering, ram pressing, commercial glazes or commercially prepared claybodies.

Pine Mills Pottery was established in 1979 after returning from Europe where we apprenticed with potters in England, France and Greece, including eighteen months at Lowerdown Pottery in Devon with David Leach and a shorter period of time with his brother Michael Leach at Yelland Pottery. Work created at Pine Mills Pottery is primarily wood-fired stoneware, both thrown and constructed from slabs. Work is produced in multiples, focusing on form, color and a high degree of quality. Most work is fired in a 128 cubic foot Bourry box wood-fired kiln to cone 12 several times a year. The kiln was built in 1983 and has been fired over 100 times. In addition to our wood-fired kiln, we built a smaller 50 cubic foot gas-fired car kiln in 1987, in which bisque and glaze firing is done. We work independently of each other and rarely collaborate on pieces, though we share the same studio, clays, glazes and kilns. We hope you enjoy exploring our web site and are able to come to the studio and gallery for a visit. Please get in touch with us if you would like to make a purchase or have questions.
Gary & Daphne Hatcher
903-857-2271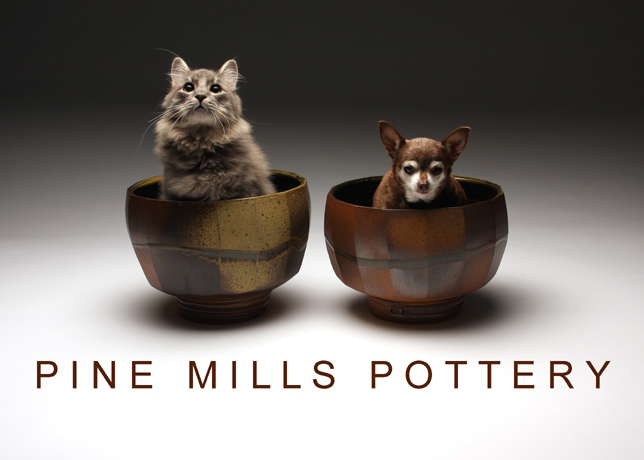 From the making of the pots, through the glazing process, to the loading & firing of our kiln, this gallery explores the process of taking a pot from the raw clay to the gallery.
New work from recent firings can be viewed in our beautiful gallery at the studio. Daphne continues to come up with sumptuous platter glazes and patterns. Gary's strong bold forms are represented in new cut-sided bowls and bottles. Come for a visit and see all that is new at Pine Mills Pottery!