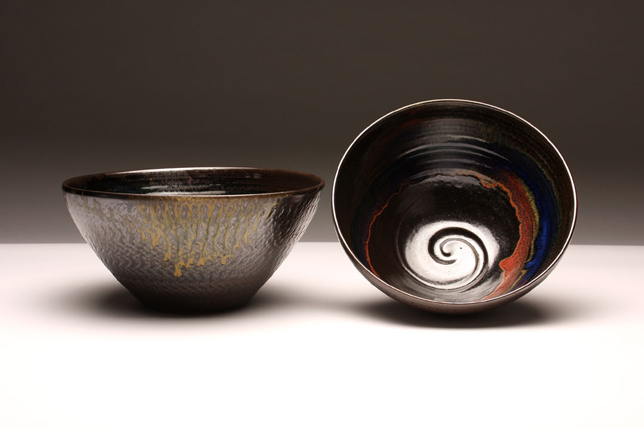 Bowls by Gary Hatcher
Things To Do Locally
Mineola Chamber of Commerce
http://www.mineola.com/

Winnsboro Chamber of Commerce
http://www.winnsboro.com/
These two online and print magazines will have up-to-date information about things to do at the exact time of your visit:
County Line Magazine
A trusted source for keeping you informed of WHAT'S UP in the Upper East Side of Texas, celebrating our artists and the impact the arts make on our society. Where to go to hear everything from folk, country, rock n roll, and more. Directory of restaurants, reviews, and recipes and WHERE TO STAY, highlighting great weekend getaways from B&Bs to RV Parks.
http://www.countylinemagazine.com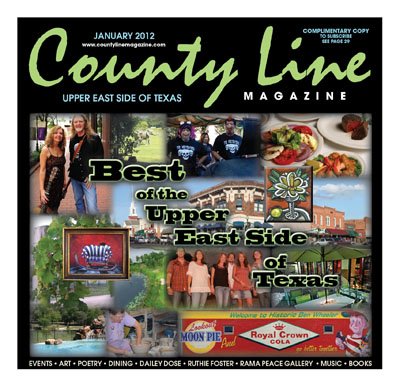 Piney Woods Live Magazine
Piney Woods Live is a monthly magazine covering the visual, performing and literary arts in the Northeast Texas area. Current events, calendar, artist profiles, more.
http://www.pineywoodslive.com/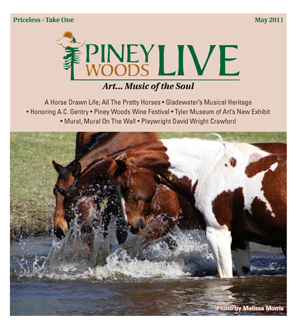 AREA RESTAURANTS:
Pine Mills Catfish, Pine Mills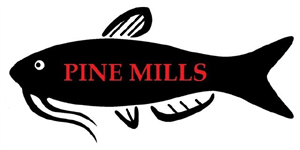 Located in the historic old Shamburger Store at the intersection of FM 14 and FM 49 in Pine Mills, TX, Pine Mills Catfish offers well-prepared catfish and shrimp (fried or grilled), steaks and burgers, served with excellent homemade beans, slaw, potatoes & hush puppies. Owners Kim and Andrew Stradley have created a warm, down-home atmosphere with bluegrass music, a friendly staff & local memorabilia. Occasionally has live music. Dine in or take out. Open Friday and Saturday nights, 4:30-9:00 pm 903.857.2021
MUSIC VENUES:
Pickin' in the Pines Music Festival
http://www.t-roymiller.com/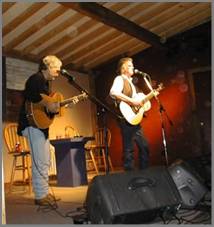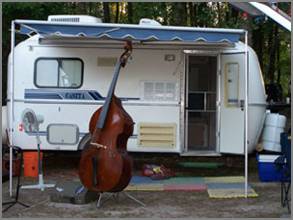 What is Pickin' in the Pines? If you ask a musician that question, they will tell you it's "An Acoustic Jam Fest". This is the musically correct explanation. Music fans that attend year in and year out will tell you it's even more then that. It could also be called "Pickin', Campin', Vistin', Barbecuin', Story Swappin', Relaxin', Sippin', Strollin', and Listenin' in the Pines. It's a weekend event, so most folks arrive with tents or self-contained camper trailer and it's BYOB. Guitar, flute, banjo, harmonica, fiddle, and mandolin are just a few of the instruments to enjoy and sing along with. Bring your own instrument of choice or just come and be a fan. Greenhorn campers enjoy a hot water shower and restroom for the guys and gals. If you can't camp out, you're still welcome to "come and go" just for Friday and/or Saturday night concerts if that is your preference. Second weekend in May, September and January.
Pine Mills, Texas
Geri and Richard Miller
903.857.2253
Mount Vernon Music
http://www.duorenard.com/
http://www.mountvernonmusic.org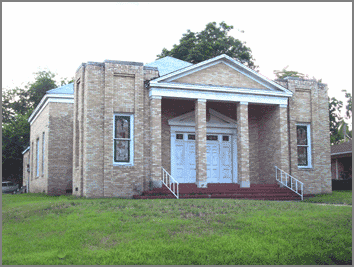 Mark and Ute Miller of Dallas, known professionally as the violin/viola duo, Duo Renard, had a dream of bringing fine musical events to East Texas. This dream has been realized in the purchase of the Old Central Christian Church building in Mount Vernon Texas, which has been renovated to accommodate musical performances, and the creation of the Mount Vernon Music Association.
Mount Vernon Music Association is a charitable organization whose mission is to provide outstanding performances of live music to communities primarily in northeast Texas. To fulfill this mission we offer concerts of traditional chamber music, jazz and other styles as well as educational and family concerts, programs for nursing homes, and interaction of performing and the visual arts. Admission to all events is free.
Performance Calendar (Mount Vernon and other East Texas venues)
http://www.mountvernonmusic.org/calendar.html
Mount Vernon Music
Old Central Christian Church
402 Leftwich
Mount Vernon, Texas
Crossroads Music Company
http://www.crossroadsmusiccompany.com/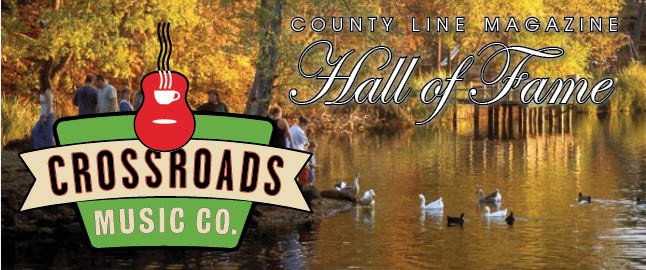 Winnsboro was founded as "Crossroads" in 1854 and today is a growing haven for musicians, artists, nature lovers and those seeking refuge from the big city life. It's been several years since Crossroads Music Company began hosting amazing performers. The genres may vary, but the 100-year-old hardware store turned musical sanctuary resonated with passion and talent. Knowing that these artists travel the world but love coming to our little town every weekend is magical. The artists love the audience, they love the sound.
Crossroads Music Company
200 Market Street (inside the Winnsboro Center for the Arts)
Winnsboro, Texas 75494
903.342.1854
NATURE CENTERS AND OUTDOOR ACTIVITIES
Mineola Nature Preserve on the Sabine River
http://mineolanaturepreserve.com/
2900 acre nature preserve open 7 days a week from sunrise until sunset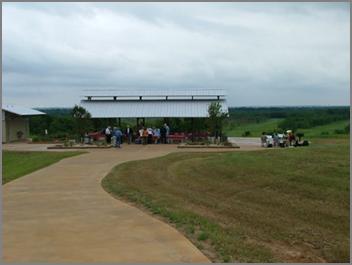 The park, funded in part by Texas Parks and Wildlife and the City of Mineola, was created to preserve a wetlands area for bird-watching, hiking, fishing, picnicking and other activities. Mineola Nature Preserve includes a pavilion overlooking a wildlife viewing area, three miles of walking and nature trails, a canoe rest station, a picnic area and a playground. The property also includes a pond stocked with fish. The Mineola Nature Preserve is located just south of Mineola on Route 69, accessible from the SE Loop 564 and County Road 2724.
additional Mineola Nature Preserve info:
http://www.mineola.com/Mineola%20Preserve%20On%20Sabine.htm
Great Texas Wildlife Trails
http://www.tpwd.state.tx.us/huntwild/wild/wildlife_trails/pineywoods/
If you wish to discover more about the north and northeast Texas birding and wildlife observation opportunities, you will find it in Texas Parks and Wildlife's newest set of maps, the Prairies and Pineywoods Wildlife Trails - East and West. These will navigate you in your discovery of the wildlife and enjoyment of the beautiful forests, lakes, and prairies of Texas.
Pine Mills Pottery is #63 on The Little Sandy Loop for bird and other wildlife watching opportunities: http://www.tpwd.state.tx.us/huntwild/wild/wildlife_trails/pineywoods/piney_east/littlesandy/
"Daphne and Gary Hatcher have been making world-class pottery in the woods of east Texas since 1979. Their gallery and studio are regularly open to visitors as is access to their beautiful patch of pine and hardwood forest. Visitors who take the time to explore their property will find a plethora of wildlife. The towering pines hold numerous Pine Warblers and echo with the songs of Brown-headed Nuthatches. A trail leads from the Hatcher's gallery to a well-vegetated pond that attracts waterfowl during the winter. Look for Banded and Diamond-backed watersnakes as well as dragonflies such as Widow Skimmer and Eastern Pond Hawk. Moist areas along the trail support a ground cover of ferns and spring-fed creeks drain into the lake. Look for a variety of wildflowers during spring."
Tiger Creek Wildlife Refuge
& the Tiger Missing Link Foundation
http://www.tigercreek.org/






Tiger Creek Wildlife Refuge, home to over 40 rescued big cats, including Bengal, Indonchinese, Sumatran & Siberian Tigers, African Lions, Pumas, Leopards and Bobcats. Come meet these majestic animals, learn about the feline species known as Panthera Tigris and find out how you can help to ensure their future in the US and worldwide. Tiger Creek was started for a very specific purpose: "To provide rescue and rehabilitation of big cats that have been abused, neglected or displaced." Here, among the pine trees and red clay soil, you'll find an exotic collection of real-live tigers, lions, leopards and mountain lions. Housed behind two layers of fence, for their safety as well as yours, our cats are easily seen and enjoyed. When they're feeling especially playful, they can put on a show more entertaining than anything you'll find on television. Guided tours offered Monday thru Saturday.
Tiger Creek Wildlife Refuge
17552 FM 14
Tyler, Texas 75706
903.858.1008
Mrs. Lee's Daffodil Gardens
http://www.daffodilgarden.com/daffodils_home.htm
or
http://www.daffodilgarden.com/index.htm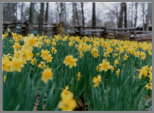 Most people have never heard of it... yet those who have, believe it is a private paradise tucked away among the East Texas landscape. It is considered to be the best kept secret in East Texas. Mrs. Lee's Garden is a 816-acre tract of land that is drastically transformation every February and March. Each spring the acreage becomes a golden haven of beauty. Millions of golden daffodils, scattered over approximately 28 acres, begin to bloom. Visitors can see all the beauty by traveling along a four-mile trail that meanders around two lakes, between wooded valleys, and around a replica pioneer log cabin. It is a sight that leaves visitors in absolute awe.
Within the boundaries of this 918-acre farm is a lesson of history, a sermon on the wonders of God's nature and much beauty for people to see. Due to the hard work, patience and love of Mrs. Lee, for her God, her country and her fellowman, to be able to add to the beauty of nature for all to enjoy as much as she did.
The garden opens, depending on Mother Nature, around the middle of February and remains open through March or until the daffodils are no longer in bloom. The garden's ability to open depends upon two things:
Road conditions- it is closed when the roads are wet.
The garden's future ability to remain open depends upon the number of people who visit and register their attendance.
The garden is open during this time seven days a week from 10 a.m. to 4:00 p.m. For Road Conditions and predicted blooming schedule, contact the Mrs. Lee's Daffodil Gardens directly at (903)845-5780
The Helen Lee Foundation
21600 CR 3103
Gladewater, TX 75647
903.845.5780
ART CENTERS for classes and entertainment events
UT Tyler R. Don Cowan Center for the Fine and Performing Arts, Tyler
http://www.uttyler.edu/cowan/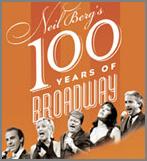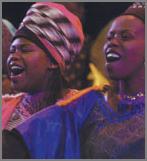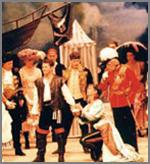 The University of Texas at Tyler R. Don Cowan Fine and Performing Arts Center offers national and international touring arts and educational programming to enrich the cultural climate for the East Texas Region. Artists presented by the Cowan Center's many series have included Bill Cosby, Lincoln Center Jazz Orchestra with Wynton Marsalis, David Copperfield, Dance Theatre of Harlem, Lyle Lovett, Momix, Gregory Hines, Tim Conway and Harvey Korman, and Broadway shows Miss Saigon, Annie, Chicago, Cats, and Stomp, as well as important guest speakers such as George W. Bush. For information about current presentations, please call 903.566.7424 or visit their website at http://www.uttyler.edu/cowan/
R. Don Cowan Center for the Performing Arts
The University of Texas at Tyler campus
3900 University Boulevard
903.566.7424
MINEOLA LEAGUE OF THE ARTS
www.mlota.org


Offering adult and children's classes in painting, quilting, line dancing, fiber arts and crafts.
Mineola League of the Arts (MLOTA) is located in Mineola, Texas. The League began in 1988 with 17 charter members meeting in various homes and businesses to promote the arts. In 1989, rental of the old Central Elementary School Building provided a place to display and perform art forms. In 1992, the Meredith Foundation of Mineola provided MLOTA with a grant to purchase the building from the school district. Additional grants also provided funds for exterior and interior renovations. Space abounds for exhibiting, teaching, learning, performing and involving the community in the arts.
Mineola League of the Arts
200 W. Blair Street
Mineola, TX 75773
903.569.8877
LAKE COUNTRY PLAYHOUSE, Mineola
http://www.lakecountryplayhouse.org/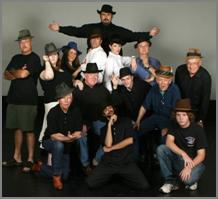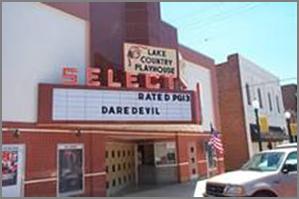 The Lake Country Playhouse, an award-winning live-drama group headquartered at the Select Theater, offers live productions at least 12 weekends a year. The Select Theater is one of the oldest continuously operating theaters in the state of Texas and still offers movies on a regular basis. The theater has operated as a movie house since 1920, when Mr. and Mrs. R.T. Hooks leased the Select Theater Building and began providing Mineola with its main source of entertainment. After Mr. Hooks died in 1934, Mattie Hooks continued to operate the theater and gave it the style and ambience it still projects today; in 1948, she hired a contractor to remodel the theater, adding backdrops with beautiful scenery, dressing rooms on each side of the stage, and box seats; the new building had a concession stand, ice cream parlor, and a striking-looking neon tower with revolving parts. When Mrs. Hooks became ill, her son, R.T. Hooks, Jr., purchased his mother's interest in the theater and operated the business until his death in 1961, at which time the theater was purchased by James O. Dear and Truman Thomas, both of whom had been theater employees. In 1986, ownership of the theater was transferred to the Lake Country Playhouse, and the building was sold to Lake Country Playhouse in 1993, thus insuring a permanent motion picture theater in Mineola . A fine example of its period, the Select Theater is one of Texas ' historic treasures. The Hooks family and the people of Mineola deserve recognition for maintaining the theater with integrity and appreciation for its origins.
Lake Country Playhouse
and
The Select Theater
114 North Johnson
Mineola TX 75773
903.569.2300
WINNSBORO CENTER FOR THE ARTS, Winnsboro
http://www.winnsborocenterforthearts.com/



Winnsboro Center for the Arts, Embracing the Spirit of Creativity
Located in downtown Winnsboro in an historic building, the Winsboro Center for the Arts offers classes in painting, crafts and dance, as well as public performances in theatre, dance and music. Winsboro Center for the Arts began as a dream for many local artists a very short time ago, originally founded as Trails Country Center for the Arts. It has quickly become a hub by initiating, supporting, presenting, and preserving projects in nearly every artistic medium, and creating a primary focus for interdisciplinary art and criticism. Winnsboro's Center for the Arts commitment to contemporary and historical literature, music and performing arts continues to grow and has initiated a series of public programs that has grown from its fundamental mission, namely, to make the arts of our own time accessible to an ever wider and increasingly well-informed audience.
Winnsboro Center for the Arts
200 North Market Street
Winnsboro, Texas 75494

903.342.0686
About Pine Mills, Texas
The History of the Pine Mills Community


PINE MILLS, TEXAS. Pine Mills, also known as Liberty Hill and as Reedsville, is at the intersection of Farm roads 14, 49, and 312 ten miles southeast of Quitman in southeastern Wood County. As early as 1850 a sawmill community called Liberty Hill was located slightly southeast of where Pine Mills would later stand. By 1854 the Holly Springs Baptist Church of Christ (later the Mount Pisgah Baptist Church) was meeting at a place variously known as the Liberty Hill Meeting House or Liberty Hill Chapel. The settlement reportedly had a school by 1855. The area was later served by the Mount Pisgah and Liberty (or Sleepy Hollow) schools. A pottery was located in the area as early as 1860. During the early 1870s the community was reportedly called Reedsville, for local sawmill owner Richard G. (Dick) Reed. In July 1875 a post office called Pine Mills was established, with Reed as postmaster. At that time the official name of the community was changed from Reedsville to Pine Mills, apparently because another post office called Reedsville already existed in Texas. By 1884 Pine Mills had a population of 130, a school, two churches, and a number of businesses, including a blacksmith, two carpenters, two cotton gins, and several sawmills. By 1892 the population had reached 250, and the town had at least eleven businesses, including a general store, two physicians, and five sawmills. Sometime before 1892 residents of Pine Mills organized a Church of Christ. In 1904 the town population was 222, but by about 1905 the local timber was depleted, and the mills moved away. The post office closed in 1907, and by 1910 the population had declined to around forty. In the 1930s the community was served by the Liberty school district and had a number of dwellings and three businesses, including a factory. After 1930 honey became a money crop, and farming of specialty crops increased. In 1943 Pine Mills reported a population of eighty and three businesses. The discovery in 1949 of the nearby Pine Mills oilfield apparently had no permanent effect on the community's declining economy, and by the mid-1960s its population had dropped to seventy. At that time it consisted of two churches, widely scattered dwellings, and two businesses, including a sawmill. Pine Mills Pottery was established in 1979; in 2002 the community reported a population of three and the pottery business.
BIBLIOGRAPHY: Marker Files, Texas Historical Commission, Austin. Timothy K. Perttula et al., `This Everlasting Sand Bed': Cultural Resources Investigations at the Texas Big Sandy Project (Austin: Prewitt and Associates, 1986). Wood County, 1850-1900 (Quitman, Texas: Wood County Historical Society, 1976).
About Mineola, Texas, our nearest town, 14 miles away:
Mineola was established in the 1840's, and was chartered in 1873 near an artesian well used by traders. The Northern and Texas Pacific Railroads in 1873 and the MKT came in 1881 made Mineola a vital link in the area's commerce.
In 1989, Mineola was designated a Texas Main Street City and more than three million dollars has been spent so far in renovating central business district buildings. Downtown Mineola is once again a flourishing center of commerce. Buildings reflect the history of the area and the artistry and craftsmanship of bygone eras. Decorative cast-iron columns from the turn of the century stand next to Carrara glass facades of the 1930's; ornate architectural details under building eaves contrast with the simple lines of classical revival style.
Hotels built in the heyday of the railroads, as well as several historic homes, have been renovated and are centers of activity, serving as charming bed and breakfast inns and unique retail locations. Situated among more than 20 antique stores are specialty shops which feature dolls, clocks, vintage clothing, furniture, glassware, primitive and collectibles. Craft malls have items created by local craftsmen and artists. Mineola Memorial Library, a privately-endowed facility with over 34,000 items, is noted for its genealogy department.
Mineola is becoming well known and popular for its many cultural activities. Artists, sculptors, potters, musicians, writers, photographers, actors and other artists and artisans have created a cultural Mecca in Mineola. The 78-year old Select Theater is the only remaining movie house in Wood County and still offers first run films on weekends. The Lake Country Playhouse, an award-winning live-drama group headquarters at the Select, offers live productions at least 12 weekends a year. LaSalle Diner Theater, Morning Star, Inc., Children's Live Play and The Piney Woods Pick'n Parlor, housed in the grand ballroom of the historic Beckham Hotel, features monthly live acoustic music concerts and other musical and cultural events throughout the year. The Pick'n Parlor is well known all over the country and the concert series continuously gets audition tapes and requests to play from up and coming as well as already-popular, well known musicians.
Mineola is called the gateway to the Lake Country and there are literally hundreds of public and private bodies of water in the area. Lake Holbrook, one of four Wood County lakes, is just two miles from town. Lake Hawkins, another of the four, east of Mineola, has a fine campground for tent and RV camping. Lake Fork Reservoir, only about 15 miles away, is world famous for trophy bass fishing. When they're biting at Lake Fork, you see boat trailers with licenses from all over and there are often corporate jets parked at Mineola-Quitman Airport (3,200 foot all-weather, lighted) for fishermen.
Mineola Country Club has a beautiful, tree-lined golf course that is recognized as one of the best 9-hole courses and swiming pool in Texas. There is a bowling center, with an 18-hole indoor miniature golf course.
A special attraction of Mineola is the 38-acre Mineola Civic Center complex. A favorite rally site for RV'ers from all over, the Civic Center offers 224 RV pads, a central building which can host banquets and meetings for up to 500 people, six lighted tennis courts, a picnic area and playground.