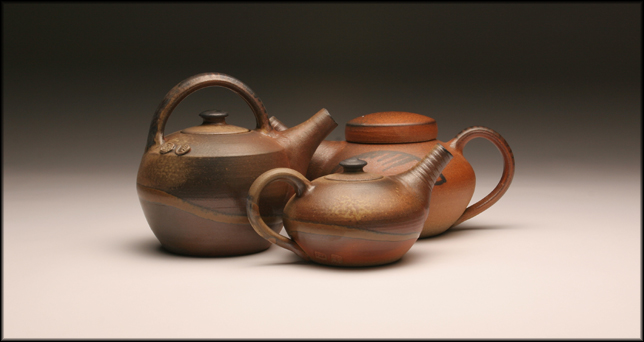 Teapots by Gary C. Hatcher
Purchase Ceramic Art from Pine Mills Pottery studio and gallery
VIRTUAL GALLERY PURCHASES: Soon, you will be able to purchase our work in our new online gallery, launching November 1st! Click here to be notified when our secure online shop opens for business: Pine Mills Pottery: ONLINE.
VISITING the studio is currently the best way to purchase our work, although we are happy to ship work anywhere in the world if you cannot visit us in person. There are many photographs on this site and in the Image Gallery to give you an idea of what is available. We have a continually changing selection of work in our studio gallery as it evolves and develops, as is the natural process of creativity. If there is a particular item on the site you are interested in purchasing use the Contact/Ask A Question link or phone Daphne at 903-316-1696. We will quickly respond with pricing and additional details and will gladly assist you with a purchase. We keep a large selection of works on hand at all times and can provide additional digital images of other works that are available.
SHOWROOM visitors can see a large selection of functional pieces that are kept in stock.
Click here for directions to Pine Mills Pottery.
GIFT CERTIFICATES are available in any amount. Just drop us a note using the Contact/Ask A Question link or phone 903-857-2271 and we will provide an attractive gift card for your gift presentation.
DINNERWARE SETS: Complete dinner sets and individual dinnerware items are kept on hand as well as samples of all styles and colors that can be ordered. A current price list is available in PDF format for download by clicking the pricelist link. All dinner sets are made one at a time by Gary and Daphne. Allow six months for most dinnerware orders.
COLLECTORS of our work will find our upstairs gallery particularly interesting. Work that is held back for museum and gallery exhibitions can be viewed and some pieces are available for purchase. Out of every firing we select what we consider the best pieces. These pieces are held to send out to exhibitions in which we are invited to participate and for placement in private collections.
CONSIGNMENT of works is not available, although we often provide pieces or a selection of pieces on approval to established customers and collectors.
ARCHITECTS AND INTERIOR DESIGNERS: We often work with architects and interior designers on both commercial and residential special projects. Projects over the last 30 years have including restaurants, hotels, hospitals, airports, offices and many homes. Contact us to discuss your next project.
PLEASE contact us if we can be of assistance to you in any way at:
903-857-2271
Gary and Daphne