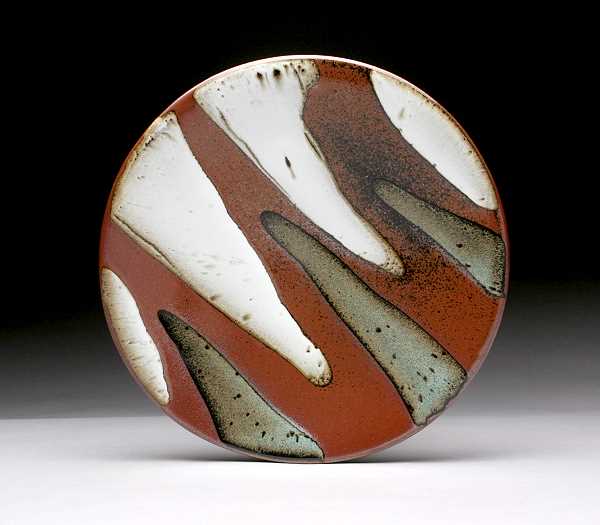 Platter By Daphne Hatcher: Available in sizes from 7" to 20" in various patterns and color schemes.
Remembering Mick Casson by Gary C. Hatcher, The Studio Potter 2004
Remembering Mick
Michael Casson, 1925-2003
by Gary C. Hatcher

It is with great sadness that we learned of the passing of a distinguished potter, mentor and educator who was loved and respected not only in Great Britain but also by many throughout the ceramic world. Michael (Mick) Casson died on December 12th, 2003, at 78 years of age. He was a source of encouragement and inspiration to an entire generation of aspiring potters.
Born in 1925, he became a major figure in the studio pottery movement after World War II. Mick was a founding member of the Craftsman Potters Association (later known as the Craft Potters Association) and was also instrumental in the establishment of the CPA shop and organization headquarters at Lowndes Court, Soho, in London in 1958. The CPA shop became an important focal point for potters, collectors and enthusiasts in Great Britain under the management of his sister, Pan Henry. He served as a council member for twelve years and was Chairman of the CPA from 1963 until 1966.
Through Mick's enthusiasm many enterprises and events were organized that supported and informed studio potters and it was his generous spirit that served as an encouraging force for many potters learning the ways of clay and establishing their own studios. It was at one of those teaching events that Daphne and I first met Mick while attending the "Potters Camp" organized by the CPA and held on the grounds of Dartington Hall Trust in South Devon. In 1977 we were working for David Leach at Lowerdown Pottery in Devon, which was a short trip from Dartington. Dartington Hall was the large estate purchased in 1925 by Dorothy and Leonard Elmhirst that supported projects and events involved with the arts. It was there that Bernard Leach set up a small studio and wrote "A Potter's Book" in the thirties.
At this event, Mick acted as Master of Ceremonies and demonstrated along with David Leach, Ray Finch, and others. It was a fun and enlightening event for two aspiring young potters who were charmed by Mick and his enthusiasm for clay. A big tent was set up on the Dartington grounds where the action took place with hundreds of potters and clay enthusiasts present. The Dartington Training Workshop was also going strong under the direction of Peter Starkey, serving as a place for young potters to make the transition from academic experience to working full time in a studio environment. Along with David Leach, Mick was a founding board member of the Dartington Pottery Training Workshop where he served as advisor from 1975 until the mid-eighties. This innovative workshop at Dartington continues to function today as a viable enterprise.
Mick established his first small workshop in the basement of his uncle's London hardware shop in 1952, making electric-fired earthenware. With red clay and a black slip, he made functional as well as sculptural works. In 1955, Mick married Sheila Wilmot, also a potter, and together they shared a life journey working with clay. His first solo exhibition was held at Heals in London in 1959 and the same year Mick and Sheila moved their workshop to Prestwood in Buckinghamshire. A fire destroyed the pottery in 1963, but together they rebuilt their pottery as well as a gas-fired kiln and moved from making earthenware to stoneware and porcelain pottery. Also in 1963 he founded the studio pottery course at Harrow School of Art with Victor Margrie, which was the first vocational course of its kind in Great Britain. In 1971 when Victor Margrie was appointed director of the newly formed Craft Advisory Committee (which later became known as the Crafts Council) Mick was asked to take Margrie's position at Harrow School of Art as the head of ceramics, which he did until 1973. Along with assistance from established professional potters such as Colin Pearson, Gillian Lowndes and Mo Jupp, a curriculum was developed to provide a workshop-style experience along with some of the attributes offered in an art school experience, such as aesthetics, history and philosophy of ceramic art. The course of study was thorough and comprehensive and gained international recognition. Many who went through the program look back on their Harrow experience with Mick as a watershed event in the formation of successful careers in ceramic art. Harrow students such as Walter Keeler, Janice Tchalenko and Steve Buck today have emerged as leaders in the ceramics field.
Although Mick appreciated the ideals espoused by Bernard Leach and was most certainly influenced by him, he derived a historical influence more from the culture of ancient Greece and Minoan pottery rather than traditions of the East. Mick promoted and encouraged students through a broad appreciation for many ways of approaching the material, not just one ideology or philosophical path.
His embrace of the idea that there were "many roads up the mountain" and his charismatic personality led him to be sought after as lecturer, demonstrator and workshop leader not only in Great Britain but also in the United States and other countries. His largest audience was reached by his production of the well-known BBC television series called "The Craft of the Potter" which was widely broadcast. This series served to educate aspiring potters, but more importantly informed thousands about studio pottery generating a greater appreciation for the art and craft of clay and promoting the potter. In addition to "The Craft of the Potter" television series, Mick produced a film called "Michael Casson Studio Potter", in 1967 wrote a book titled "Pottery in Britain Today" and followed "The Craft of the Potter" television series with a book by the same name published in 1977.
Mick and Sheila moved to Herefordshire where they purchase Wobage Farm in 1977, which was previously the site of a dairy farm. They renovated the barns and outbuildings, built kilns and studio spaces that also accommodated other artists. At Wobage they built a wood kiln as well as a gas-fired kiln for salt glazing. Several other potters, two wood workers and a jeweler work at Wobage making their own individual works. It is a unique environment offering a wide range of artworks as well as summer school workshop experience.
In Volume 32, Issue Number 2 of Studio Potter I facilitated the examimination of mentorship in clay. I can think of no better example of mentor than Mick Casson. His generosity was boundless, his ability to communicate made him a natural leader as he nurtured organizations and individuals with thought and action always emphasizing that his way was not THE way but A way. Although Mick developed an international reputation, he continued to be modest, true to his values and accessible. Thank you Mick, from all of us who were the recipients of your wisdom and enthusiasm for clay.
Gary C. Hatcher apprenticed in England from 1976 until 1979. He has maintained Pine Mills Pottery in Texas since 1979 with partner Daphne Roehr Hatcher and is Associate Professor of Art and Art Chair at The University of Texas at Tyler where he has taught since 1992. He can be reached at www.pinemills.com