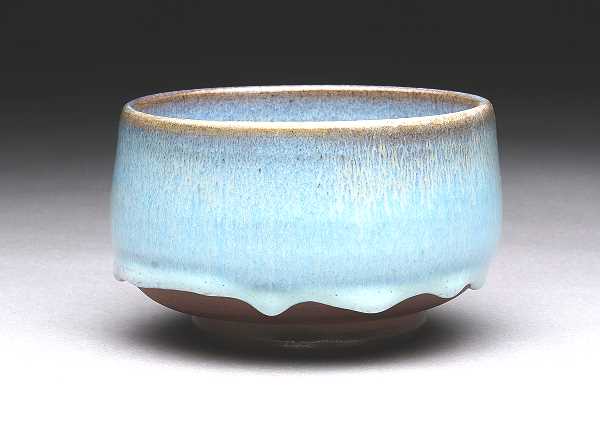 Chun Bowl by Gary C. Hatcher: Contact Studio for Purchase
In Memory of David Allen Leach by Gary C. Hatcher, Ceramics Monthly, 2005
David Leach 1911-2005
By Gary C. Hatcher
Apprentice to David Leach 1977-1979

David Allen Leach died on February 15th, 2005 after working continually as a artist potter for over 75 years. He made his first pot in 1917. Born in Japan in 1911, it was there that he spent his first nine years while his father; Bernard Leach worked first as a printmaker and then took up pottery.
In 1920 the family moved back to England where the St. Ives Pottery was established in the south of England with the help of Shoji Hamada. The St. Ives Pottery became known for the production of well made utilitarian works made by hand as well as the training ground of many potters who established studios or went on to teach.
The early years of the St. Ives Pottery were wrought with difficulty although many significant events transpired which are well documented in Bernard Leach's writings and elsewhere. David seeing the difficulty his father had establishing an economically viable operation resolved at an early age to assist his father and enrolled in a three year pottery course for the training of pottery managers at North Staffordshire Technical College in the north of England in 1934 over his father's strong objection. But it was this experience that allowed him to join his father as a full partner in 1937 and design a line of standard ware, convert the kiln to oil and work out the design for the Leach Wheel along with his is brother-in-law, Dicon Nance. David is credited with the survival of the pottery and management of the business that made it possible for his father and students to flourish in an environment of creativity. David's ability to enact his father's vision of a workshop where high quality hand made pottery was made established this reconnecting with a tradition of craftsmanship and artistry that was nearly eliminated by the industrial revolution.
David established his own pottery in 1955 near the small town of Bovey Tracey in Devon, England. At first earthenware was produced at Lowerdown Pottery but he later moved on to stoneware and porcelain after building a two chambered oil-fired kiln in 1961. David was best known for his outstanding porcelain and stoneware works that were no doubt influenced by his early years in the east.
Continuing with the model established at St. Ives, apprentices were invited into his workshop to work side by side with him learning not only the making and technical aspects of working with clay but also philosophical and theoretical aspects of the art. David was a generous man willing to share information and experience in many teaching venues and beginning in the late 70's traveled to the United States as well as many other countries to conduct workshops at universities and art centers. His work is represented in most major ceramic collections and he had over 100 one-person exhibitions.
In 2003 a major retrospective exhibition of his work was staged which toured many venues accompanied by the release of book by Emmanuel Cooper and Kathy Niblett titled, "David Leach-20th Century Ceramics".
His gentle spirit and attitude of generosity will be missed but he left a body of work that will inspire many for years to come.
More on David Leach
A Conversation with David Leach by Gary C. Hatcher, Ceramics Monthly, January 1997
David Leach Obituary from The Times, London February 25, 2005