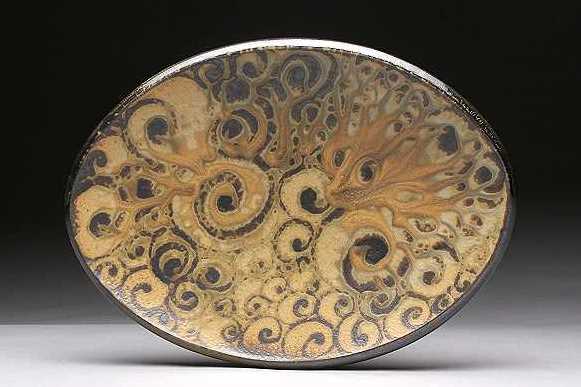 Spiral Tatoo Platter By Daphne Hatcher, Available in several sizes: Contact Studio for Purchase
Heroes, Myth and Bernard Leach by Gary C. Hatcher, The Studio Potter
In 1998 and 1999 Gary C. Hatcher served as guest editor for The Studio Potter compiling two issues of the magazine comprised of articles by noted writers, scholars, ceramic artists and other contributors. Among those invited by Hatcher to write were Susan Peterson, Richard Wilson, Ellen Conant, Garth Clark, Jack Troy, Rob Bernard, Emanuel Cooper, Brian Moeran, Scott Bessho, John McElroy, Stephan Emmelmann and Kevin Crowe. The forcus of the effort was entitled, "Alternative Perspectives of Bernard Leach". Full text of the articles by the abovementioned writers is available by ordering back issues of The Studio Potter their web site. What follows is the introduction to part II in the June Issue, Volume 27, Number 2.
Heroes, Myth and Bernard Leach
by Gary C. Hatcher
From the laziness that is content with half-truths,
From the arrogance that thinks it knows all truth,
From the cowardice that shrinks from new truth,
O God of Truth, deliver us. Source unknown
For those who flinch at critical analysis of Bernard Leach, I suggest that fears of diminishing his significance in ceramic history are misplaced. Perhaps the most meaningful contribution he can be credited with is one of catalytic progenitor, providing an entry point into a multitude of subjects that have so enriched our lives. A few inconsistencies in his memoirs can not undo his enormous contribution made to us all. In Susan Peterson's tribute included in this issue she says it well, "The influence of these two men (Leach and Hamada), both in their own countries and abroad is greater than can be measured. Whether today's potters know it or not Bernard Leach and Shoji Hamada almost single-handed made us what we are today…." 1
My efforts collecting these writings on B.L. have been directed towards presenting a convergence of thought and experiences for readers so that they may conclude in their own minds what this dynamo of 20th century ceramic history means to them. My intention has been neither to champion the Leach cause nor expose his faults, but to provide the reader with perspectives that would allow informed opinions to emerge. I have presented material on B.L. honestly and realistically and if what is said in this collection is not sagacious, it is at least not evasive. This I hope is something. Indications are that B.L. will inspire discussion and debate for many more years to come.
"If we are fortunate, if the gods and muses are smiling, about every generation someone comes along to inspire the imagination for the journey each of us takes." Joseph Campbell 2
Two things about B.L. that deserve further examination are applicable not only to him but to other persona in ceramics as well. The first is creation and perpetuation of myth and the other is hero worship. Myth plays a large part in our ceramic culture. This worldwide culture is ever moving towards geographically non-distinct attributes. We are connected via books, periodicals, conferences, workshops and the Internet and we know much about what is happening in other areas of the world related to ceramics. Our art differs from others, such as painting, in that painters do not get together and watch showmen demonstrate the latest ways to apply paint on a canvas or attend conferences focused on painting tools, techniques and philosophy. Why are these things an integral part of our community? What makes us support the workshop circuit and ceramic artists cultivate venues within the workshop circuit? Could it be that this form of hero-worship and myth making is part of the natural learning process of mentoring akin to the apprenticeship system? This process of building up heroic icons and gurus is supported worldwide. B.L. traveled extensively and his inclination for speaking about and demonstrating his art was encouraged and supported by many. Although it is beyond the scope of what can be examined here it is noteworthy to mention that the Japanese culture was one with a tradition that supported myth and that Leach even today is revered highly in Japan. During his lifetime there was a dramatic contrast between the reverential way he was treated in Japan and the mediocre way he was at times treated in his own country and America.
The great scholar of myth, Joseph Campbell has said,
"There is a certain typical hero sequence of actions which can be detected in stories from all over the world and from many periods of history. Essentially, it might even be said there is but one archetypal mythic hero whose life has been replicated in many lands by many, many people. A legendary hero is usually the founder of something-the founder of a new age, the founder of a new religion, the founder of a new city, the founder of a new way of life. In order to found something new, one has to leave the old and go in quest of the seed idea, a germinal idea that will have the potentiality of bringing forth that new thing." 3
B.L. was one of the founders of the Mingei movement. He suggested that he was a "bridge between east and west" and gave himself credit for saving handcrafted pottery in Britain from the jaws of the industrial revolution machine. In the writings of B.L. there is at times a lack of distinction between events that are historically factual and events that are embellished to support the thesis he wishes to promote. Within this issue of Studio Potter, several writers who have researched their topics well question aspects of the "Leach Myth".
Richard L. Wilson has spent a lifetime focused on Ogata Kenzan. Wilson's exemplary research leaves little doubt about the role Leach played in the most notorious art fraud ever perpetrated in Japan at that point. The question remains as to why Leach willingly participated in the authentication of forgeries when his friends Hamada Shoji and Tomimoto Kenkichi refused to be involved and many experts provided strong evidence that the Sano Kenzan finds were fraudulent. 4 Reading in Soame Jenyns authoritative book on Japanese Pottery published in 1971, Jenyns says,
"I know from correspondence that practically the whole dealer world in Japan is against recognizing the validity of either the notebooks or the pots in question." 5
Nevertheless B.L. says in his book Kenzan and his Tradition, in1966,
"As more and more pots and notebooks appeared, I stopped eating and Mr. Morikawa looked at me across the table and said, "Well?" I looked back at him and replied, "Not only do I think they are genuine at first sight, but also they are the finest group of Kenzan pots I have ever seen…" 6
There is evidence that his wife, Janet, tried to get B.L. to distance himself from the entire affair.
"But Leach was steadfast to the end, and in late life he maintained that even though his failing eyes could not see Sano Kenzan he could feel their genuineness in his heart." 7
"Every man should be his own guru; every woman her own gurette."
Edward Abbey
Questions are raised by Garth Clark in this issue as to why we all know about Bernard Leach but know so little about his contemporary William Staite Murrey. Murrey was an accomplished ceramic artist but lacked self-promotional inclination. I am reminded of what another contemporary of both Leach and Murrey, Winston Churchill said, "History will be kind to me for I intend to write it." Is this what it takes to be remembered? The writing of our own history? The creating of our own myth?
The perpetual challenge of those who write about history is one of maintaining objectivity and the separation of fact from fiction. The material uncovered, the web of scholarly facts woven when writing is not mathematics, but subject to ones own perspective. The great author Carlos Fuentes says of history that we reinvent ourselves constantly and as we reinvent ourselves we at times begin to believe our own myths. 8 For these reasons the question must be asked if it is humanly possible to objectively write our own histories. B.L. was caught in his own myth.
"Mythology is not a lie, mythology is poetry, it is metaphorical. It has been well said that mythology is the penultimate truth; penultimate because the ultimate cannot be put into words. It is beyond words, beyond images, beyond that bounding rim of the Buddhist wheel of Becoming. Mythology pitches the mind beyond that rim, to what can be known but not told. So this is the penultimate truth." 9
Joseph Campbell.
Possibly the kindest way to view the incongruities of B.L's stories would be to say he was a weaver of myth, an artist and poet. Carlos Fuentes provides another thought that may be helpful when considering the aspect of our myths of clay. "We are all men and women of La Mancha. When we understand that none of us is pure, that we are all both real and ideal, heroic and absurd . . . only then do we truly understand." 10 .
It is not possible to briefly summarize B.L. as the events of his life are woven in a complex integral way as a beautiful fabric. So maybe in the end we should cherish that innocent enthusiasm we felt when encountering this rare and unique human being for the first time. Thank you Bernard for blazing the trail.
Studio Potter has generously allowed detailed treatment of the topic of Leach. Ceramic history is important to us as we must know where we have been to know where we are and where we are going. I am not sure there is another avenue akin to Studio Potter that is committed to this kind of detailed treatment. For this I am grateful. I would also like to express my appreciation for the generosity of the many individuals who agreed to participate in this project and for all those who shared their thoughts, time and energy with me. I am blessed to be part of such a community.
Bibliography
1. Susan Peterson, "Fifty Years of Memories",1999,
Studio Potter, Volume 27, Number 2..
2. Joseph Campbell, The Power of Myth,
(New York: Doubleday,1988) p.143.
3. Ibid. p.136.
4. Soame Jenyns, Japanese Pottery,
(London: Faber and Faber, 1971) pp. 231-233.
5. Ibid. p. 233
6. Bernard Leach, Kenzan and his Tradition,
(London: Faber and Faber, 1966). p. 91.
7. Richard L. Wilson, "Bernard Leach and the Kenzan School",
Studio Potter, Volume 27, Number 2.
8. Carlos Fuentes, The Buried Mirror : Reflections on Spain and the New World, (Boston: Houghton Mifflin Company, 1995)
9. Joseph Campbell, The Power of Myth, (New York: Doubleday, 1988)
10. Carlos Fuentes, The Buried Mirror : Reflections on Spain and the New World, (Boston: Houghton Mifflin Company, 1995)
reprinted with permission by The Studio Potter